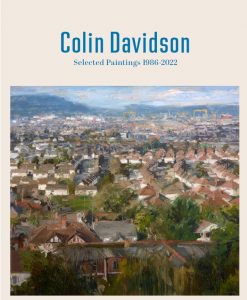 Purchase of Colin Davidson catalogue
Over the last decade, Northern Irish artist Colin Davidson has gained international renown for his large-scale portraits of actors, musicians, writers and politicians. While portraiture is the most visible manifestation of his practice, it is only one element of a multifaceted oeuvre, the result of an artist continually striving to challenge himself and explore new territory. This curiosity has produced nudes, still life, landscapes and recently explorations into three dimensions. In fact, until 2010, Davidson was best known for urban scenes, initially atmospheric views of Belfast from above and later, complex renderings of life in London and New York reflected in the glazed surfaces of office buildings.
Colin Davidson: Selected Paintings 1986 – 2022, explores the relationships and connections between these two distinct but related elements of Davidson's art. Co-curated by Riann Coulter and Kim Mawhinney, Senior Curator at National Museums NI, the exhibition provides a unique opportunity to appreciate the consistency and quality of Davidson's practice through the decades. This fully illustrated exhibition catalogue includes a newly commissioned essay by  the poet and cultural critic Kelly Grovier.
Please add your name and postal address in the comments section