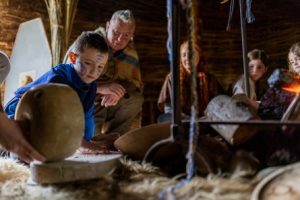 Despite living at Navan Fort around 2000 years ago, the Celts were very advanced in their scientific knowledge! As part of NI Science Festival, join us on a visit to our Iron Age dwelling, where the clan will explain the different plants they would have used for medicinal purposes such as the bark of willow for pain relief, nettles as an anti-inflammatory and chamomile for calming. Learn how the Celts preserved their food in a time long before fridges & freezers, and how to light a fire without using a match!
After your visit to the dwelling, walk in the footsteps of warriors on a guided tour to Navan Fort, where you will learn about the significant archaeological discoveries at the ancient capital of Ulster and seat of Kings.
TICKETS CANNOT BE EXCHANGED OR REFUNDED Once purchased, your ticket is your property. Navan Centre & Fort cannot refund its value to you, nor exchange it for any other ticket under any circumstances. Where an event/tour goes ahead, we accept no responsibility for tickets that are unable to be used due to circumstances outside of our control, for example bad weather and transport difficulties.
Should you have any queries, please email navan@armaghbanbridgecraigavon.gov.uk
We hope you enjoy your visit and if you are on social media, please feel free to share any memories of your experience using #navancentrefort