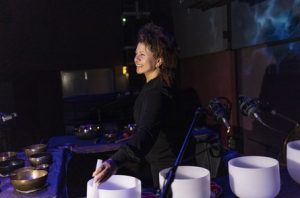 As spring approaches and nature begins to awaken from its winter slumber, join us at the Navan Centre & Fort for our Mindfulness Day Retreat with Tessa Ann from the Sound Healing Spa and Ann from Xhale. With strictly limited numbers and lunch included in the admission price, you are sure to leave feeling relaxed and refreshed.
Tessa Ann from The Sound Healing Spa will deliver an immersive and restorative sound bath experience as she plays the relaxing sounds of Tibetan bowls, crystal singing bowls, gongs & percussion along with her voice.
The sound bath will be followed by a short workshop where Tessa Ann will teach you how to play Tibetan singing bowls for your own self-care, then guide you through an experience of using the medium of sound for mindfulness as you prepare to move into the season of spring.
Forest Therapy Practitioner, Ann from Xhale will support you during a special forest bathing immersion within the Celtic haven of Navan Fort. When we open all of our senses, we are aligning our natural rhythms with the nature around us. Through guided mindfulness meditation, Ann will support you to deepen your Celtic connection with nature. You will begin to gently slow down and switch off, while awakening your senses. This is the perfect chance for a digital detox, allowing your mind and body to rest. Forest Bathing is an evidence-based wellness practice, which originated in Japan in the 1980s as a stress prevention intervention. 2 hours in the forest boosts your immunity for up to 10 days. We will celebrate your natural connection to this ancient site with a special tea ceremony of organic wild apple and cinnamon.
Early-bird discount of 15% when booked online before 3rd February, after which full price will be charged.
Notes for participants:
This event will take place both indoors and outdoors. Please bring with you a mat, pillow and blanket. Please wear walking boots, warm comfortable clothing and a few extra layers as we will be standing and sitting. Bring waterproofs – hopefully you won't need them! Also a hot drink for your comfort. Ann will provide a small rucksack, waterproof yoga mat and other materials to support your immersion. Let us know of any health conditions, allergies or mobility issues.
TICKETS CANNOT BE EXCHANGED OR REFUNDED Once purchased, your ticket is your property. Navan Centre & Fort cannot refund its value to you, nor exchange it for any other ticket under any circumstances. Where an event/tour goes ahead, we accept no responsibility for tickets that are unable to be used due to circumstances outside of our control, for example bad weather and transport difficulties.
Should you have any queries, please email navan@armaghbanbridgecraigavon.gov.uk
We hope you enjoy your visit and if you are on social media, please feel free to share any memories of your experience using #navancentrefort