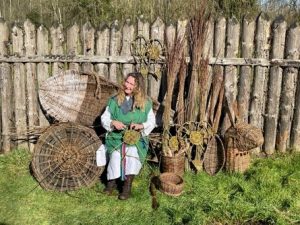 Using willow that has been sustainably grown on site at the Navan Centre, learn the ancient skills of willow weaving with Heather McDermott, or Fraoch the weaver as you may have known her, from the Celtic clan at Navan Centre & Fort. The Saille or Willow has been used for thousands of years as a multi-purpose, sustainable material.
Our June willow weaving session will take influence from the Summer Solstice, with items themed around this period in the calendar. The experience lasts for a half day and includes lunch. Participants
will also learn about the history, myth and lore of willow. Please be aware this is a fairly physically demanding course and requires reasonable manual dexterity and strength. Some of the work will take place outdoors in variable weather.
Half day willow weaving experience – lunch & materials are provided.