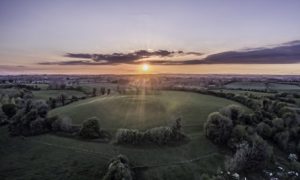 Celebrate the Summer Solstice with our new evening event of music, meditation, movement and drumming! Join us for a dynamic, uplifting celebration, connecting with the sunset of the summer solstice. Renew and discover links with your Celtic soul and unite with others to create magic on this special summer's evening.
Acknowledge your connection to the ancient land at Navan Fort (Emain Macha) and its people who honoured the seasons of nature and were nourished and supported by the earth and sun. The event is facilitated by Kate Fitzpatrick, who has been facilitating events at the Navan Centre for the past twelve years. Kate draws on the magic of the landscape and mythology to create meditations and retreats; a blend of music, spirit, mindfulness and transformation.
Summer Solstice Sunset, 7:30pm-10:30pm.