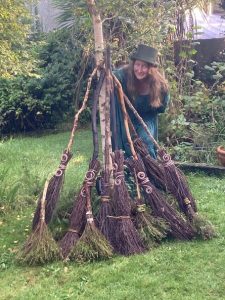 Build your very own besom broom this Halloween at Navan Centre & Fort!
Under the expert guidance of Heather McDermott Willow Craft, discover the ancient techniques used to create a besom broom. All natural materials will be used, which have been gathered sustainably and locally. The brooms are extremely versatile and can be used for clearing leaves and cobwebs and also symbolise cleansing and purification.
All materials you need to create your broom are provided in the workshop cost. The workshop will last approximately 1 hour and 45 minutes.
All materials provided as part of workshop cost. Workshop lasts approx. 1h45m