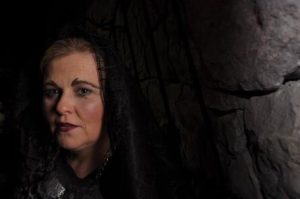 Explore the origins of Halloween, the festival of Samhain, which was considered to be the Celtic New Year. With the arrival of the 'darker half' of the year comes the opportunity to reflect on the past and dream of new beginnings.
Discover the traditions associated with the time of the year when the veil between this world and the Otherworld is considered to be at its thinnest. Customarily, family ancestors were honoured and invited home whilst harmful spirits were warded off.
This evening event will include ceremony, celebration, reflection and tradition.
You will have the opportunity to make your own talisman pouch to fill with herbs for good luck in the Celtic New Year. These may include basil for prosperity, mugwort for protection and yarrow for love.
In ancient Celtic culture, the spiral stood for the energy that affects all things – balance, connection, direction, progression, expansion and all round development. Join us as we walk the candlelit spiral and connect with the land at this extra special time of year.
We will also reflect on the ancestors who have gone before us and encourage event participants to bring along something from nature that reminds them of someone important to them, such as a favourite flower or leaf.
The evening concludes with a fire ceremony, where we cast off anything that we do not wish to bring forward with us into the Celtic New Year and celebrate the possibilities of new beginnings.
Admission cost includes welcoming drink & seasonal snack.
TICKETS CANNOT BE EXCHANGED OR REFUNDED Once purchased, your ticket is your property. Navan Centre & Fort cannot refund its value to you, nor exchange it for any other ticket under any circumstances. Where an event/tour goes ahead, we accept no responsibility for tickets that are unable to be used due to circumstances outside of our control, for example bad weather and transport difficulties.
Should you have any queries, please email navan@armaghbanbridgecraigavon.gov.uk
We hope you enjoy your visit and if you are on social media, please feel free to share any memories of your experience using #navancentrefort
Admission includes welcoming drink & seasonal snack.