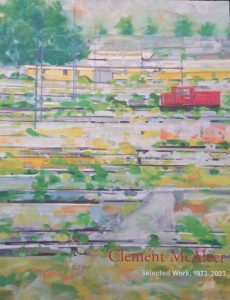 Clement McAleer: Selected Paintings 1973 – 2023 Catalogue
The F.E. McWilliam Gallery is delighted to present a major survey exhibition of the work of Belfast based painter Clement McAleer. Born in Co. Tyrone, McAleer studied in Belfast, Canterbury and the Royal College of Art and was based in Liverpool for 25 years before returning to Northern Ireland in 2003.
The focus of McAleer's paintings is landscape; not the particularities of place, but rather the restless, shifting aspects of nature where cloud or water, land or sea, meet and merge. The Irish coast is an enduring theme and travels in Europe and America have also inspired several works, particularly the series of railway paintings in Italy, Germany and the Netherlands. Recent reliefs, present abstracted landscapes glimpsed through windows or mediated by sculptural features reminiscent of Renaissance altarpieces.
McAleer has exhibited extensively in Dublin, Belfast, London and his work is included in public and corporate collections including Irish Museum of Modern Art, Ulster Museum, Walker Art Gallery, Liverpool, the Arts Councils of Great Britain and Northern Ireland and the European Parliament, Brussels. An artist appreciated by his peers but little known by the wider public. This exhibition provides a rare opportunity to appreciate the quality and scope of McAleer's work.
Please add your name and postal address in the comments section