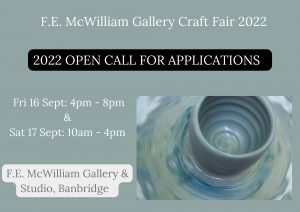 Applications are now open for the F.E. McWilliam Gallery Craft Fair 2022.
The FE McWilliam Gallery craft fair, which showcases a range of handmade and bespoke gifts and crafts made locally and throughout Ireland, is now in its fourth year and is growing in popularity with both designers, makers and visitors.
The event will take place on Friday 16 (4pm – 8pm) & Saturday 17 (10am – 4pm) September and will include live music, children's entertainment and Quails Café.
For more information and application form please click below:
F.E. McWilliam Craft Fair Applicant Guidelines 2022
F.E. McWilliam Craft Fair 2022 – Application Form
Deadline: Tuesday 9 August 2022, 4pm.