Armagh County Museum
+44 [0]28 3752 3070
15/06/2019
30/09/2019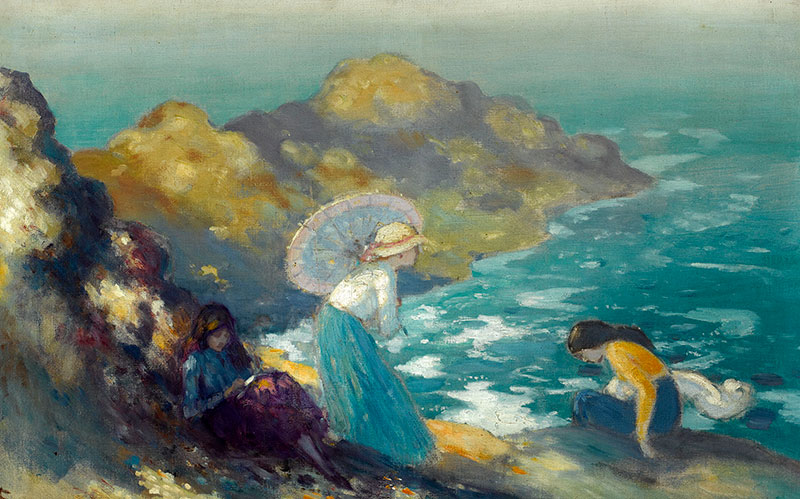 This selection from the Museum's collection of AE paintings demonstrates the range of subjects that inspires George (AE) Russell.
Although commemorated in this exhibition by his paintings, George Russell had a varied career. His artistic talents emerged through his poetry and painting. Through his other work, he was actively involved in highlighting the plight of the rural farming community and in attempting to alleviate poverty through the co-operative movement. As a political commentator Russell was to meet both the British Prime Minister, Lloyd George, and the Irish leader, Michael Collins, as well as President Roosevelt in the USA. An extract from one of his letters charts his interests:
'Painting is the only thing I have any real delight in doing. Nature intended me to be a painter.. I went into an office, and wrote poetry. Then because I wrote good poetry I was taken from the office and sent out over the country to organise farmers. When I wrote two or three articles about farmers and their lives I was taken from organising and put on to editing an agricultural paper. When I had learned to do this I was dragged into politics, and now I edit a weekly review dealing with politics, literature and economics'
The Inspiration for much of Russell's painting and poetry reflect his deeper inner thoughts. He was fascinated by the spiritual world, influenced by dreams and visions and captivated by ancient Irish myths and legends. Even his pseudonym 'AE' refers to the name for mystical beings known as 'Aeons'.
Having started out portraying what he thought of as Ireland's invisible inhabitants, he gradually turned more and more to landscape. He worked around Marble Hill in Donegal and regarded the West of Ireland as 'charged with psychic energy'. The influence of this rugged scenery and rural lifestyle can be seen in paintings on display depicting Irish peasant women, such as 'Eventide' and 'The Potato Gatherers'.