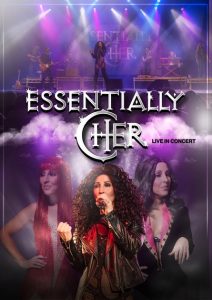 Cher has been an icon of rock, pop, folk and dance music for over 60 years filling the hearts and minds of audiences young and old and this 2 hour production showcases exactly what a tribute show should be to the legendary Goddess. Trisha McCluney (Star of BBC1's I Can See Your Voice) brings the very essence of Cher to any stage that she graces and leaves audiences mind-blown with the accuracy that she portrays. From the replica costumes, her witty persona and THAT voice there is no denying that this is one of the most unique tribute shows. 
Often described as "The Irish Cher", Trisha is gaining a huge name within the tribute industry and is repeatedly contacted worldwide by high end bookers/promoters, stating that their research has found her to be "the best tribute to Cher that they can find" which in turn has opened doors for her to perform all over the UK, Ireland, Scotland, Europe, the Middle East, and even as far as America.  
Audiences can expect to be wowed in this high end production by a cast of talented musicians and singers that make up the Essentially Cher band performing fully LIVE alongside amazing professional dancers to reflect true authenticity and as close to the real Cher as you can get and it continues to gain impressive momentum to rave reviews.
Performing hits such as Turn Back Time Strong Enough, Walking in Memphis, Believe, I Found Someone, Just like Jesse James and more this show has proven to draw audiences back time and time again. 
Come and be a part of the Essentially Cher experience