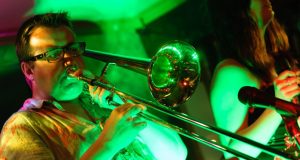 Armagh's iconic 7 Hills Blues Fest returns for a ninth summer, bringing world-class talent to venues and locations across the celebrated Cathedral City.
Firmly established as one of the great blues and roots music events in the UK and Ireland, the ancient city will rock from Thursday 8th to Sunday 11th August 2019 with some serious bluesy tones.
From the 'Blues Picnic in the Palace Park' with the incredible backdrop of the Georgian Palace Demesne to a 'BBQ N' Blues' in the atmospheric Shambles Yard, with views of the iconic St Patrick's RC Cathedral, there really is something for everyone at 7 Hills Blues Festival.
Armagh's pubs and restaurants will be hosting a fantastic array of top class international blues performers so hostellers should plan a visit to Armagh this August for some blistering blues: best served chilled!