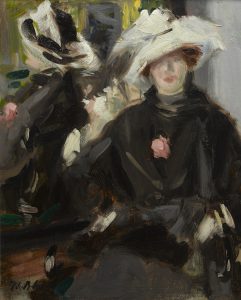 Scottish Colourists from the Fleming Collection
1 June – 28 September 2019
The F.E. McWilliam Gallery and Armagh City, Banbridge and Craigavon Borough Council are delighted to present Scottish Colourists from the Fleming Collection.
This stunning exhibition of landscapes, still-life and portraits created during the first decades of the twentieth century is the first exhibition of Scottish Colourists to be shown in Northern Ireland and provides a unique opportunity to see work by some of Scotland's most important artists.
Today, the four artists known as the Scottish Colourists – S.J. Peploe, J.D. Fergusson, Leslie Hunter, and F.C.B. Cadell – are acknowledged as one of the most talented, experimental and distinctive groups in twentieth century British art. However they did not emerge as a quartet until relatively late in their careers when their Glasgow dealer staged the first group show in Paris in 1924, turning a loose affiliation of friends bound by common artistic goals into a movement.
A love of France and an immersion in the current trends of French art is a defining characteristic of their development as artists. France unlocked the young Scots' creativity and emboldened them to explore the frontiers of contemporary art from the emerging Post-Impressionist giants, Cezanne and Van Gogh, to the 'wild beasts', known as the Fauves, a group which in 1905 cut loose from representational values to convey an emotional reality through an expressive, often brutish, use of pure colour and line.
Presenting thirty works from the Fleming Collection, complemented by loans from National Museums NI and a private collection, this exhibition charts the Colourists careers from their early experimentalism under the sway of Whistler and Manet via the breakthrough moment of their exposure to the Fauves to their mature works. Examples by precursors and inspirers such as John Lavery, Arthur Melville and Roderic O'Conor are also included.
Dr Riann Coulter, Curator of the F.E. McWilliam Gallery said, 'This exhibition presents a rare opportunity to see an outstanding collection of work by some of Britain's most important artists. During the first decades of the twentieth century, the Scottish Colourists adopted the latest trends in French art and used them to create a new way of seeing the Scottish landscape and life in Scotland. We are thrilled to be able to bring this stunning exhibition of important art to Northern Ireland'.
James Knox, Director of the Fleming-Wyfold Art Foundation said, 'It is a huge privilege to bring the first exhibition of the Scottish Colourists ever held in Ireland to the FE McWilliam Gallery and Studio in Banbridge. The four Scottish Colourists were one of the most talented, experimental and distinct groups in 20th century British art – combining beauty with radicalism as masters of portraiture, landscape and still life. Another first for this ground breaking exhibition is their pairing with work by Ireland's Roderic O'Conor, whose cutting edge, French inspired work anticipated the Scots painters' achievement. The links with Scotland and Ireland have always been strong and this dazzling show reveals the depth of this cultural connection.'
The Fleming Collection owns the finest collection of Scottish art outside institutions comprising over 600 works from the seventeenth century to the present day. The collection dates back to 1968 when Flemings investment bank, which had been founded by Dundonian, Robert Fleming in 1873, began to acquire Scottish art to hang in its offices worldwide.
The Fleming-Wyfold Art Foundation was established in 2000 to pursue a programme of cultural diplomacy furthering an understanding and appreciation of Scottish art and creativity through exhibitions, events, publishing and education. Scottish Colourists from the Fleming Collection is part of the Foundation's 'museum without walls strategy' of touring art from the collection.
Details on all FE McWilliam Gallery and Studio activities and exhibitions can be found at www.femcwilliam.com or www.facebook.com/femcwilliamgallery