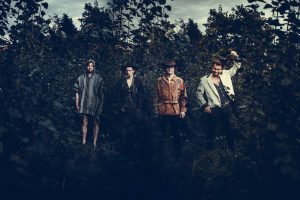 Armagh band Hunkpapa's track 'Losing All' is used as the backdrop to Armagh City Youth Hostel's new minute long video. 'Create Armagh Hostelling Memories' transports hostellers through a year-round program of incredible things to do, pairing the homegrown soundtrack with evocative shots of Armagh's unique events and vibrant festivals.
Armagh band 'Hunkpapa' have just increased their fan base after playing Open House Festival in conjunction with SnowPatrol's Ward Park 3 concert. This follows Gary Lightbody's effusive praise of the band's songs and BBC Radio 1 presenter, Phil Taggart's comment 'Hunkpapa are the best band I have seen in ages with massive, massive tunes.'
Prior to their Ireland and UK tour in the autumn, Hunkpapa will be performing an intimate hometown gig in The Market Place Theatre on Saturday 29th June and students are encouraged to bring the 'end of exams' summer party to Armagh with a hostel stay, a very special music gig and a chance to explore Armagh's distinctive and eclectic cultural history.