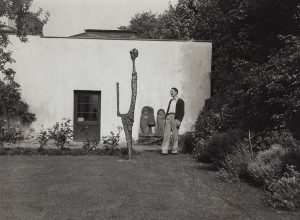 The F. E. McWilliam Gallery and Studio in Banbridge, County Down, opened in 2008 to celebrate the life and work of sculptor Frederick Edward McWilliam, who was born in the town in 1909.
The son of a local doctor, F. E. McWilliam, or 'Mac' as he was known to his friends, was educated at Banbridge Academy, Campbell College and Belfast College of Art before moving to London in 1928 to study at the Slade. Although McWilliam focused on painting, his interest in sculpture was encouraged by his tutor, the modernist sculptor A. H. Gerrard, who was to become a life-long friend and mentor.
While at the Slade McWilliam shared a flat with the Belfast-born painter John Luke, who was part of a generation of Ulster artists – including George MacCann, Elizabeth Clements and William Scott – who won scholarships to study in London during the 1920s and 1930s. While Luke, MacCann and Clements returned to live in Northern Ireland, McWilliam and his friend William Scott made their lives in London. It was at the Slade that McWilliam met Beth Crowther, a fellow student, whom he married in 1932. Beth was a ceramicist but appears to have made little work after their daughters Sarah and Beth were born, in 1937 and 1939.
In 1931, McWilliam won the Robert Ross Leaving scholarship, which had been awarded to John Luke the previous year. He and Beth used the money to travel to Paris. Although he was still painting, he spent hours in the Musée d'Ethnographie du Trocadéro studying African carving, and visited sculptors Constantin Brâncuşi and Ossip Zadkine. It was also in Paris that McWilliam first read James Joyce's Ulysses which was banned in the UK. The work of Joyce, and his fellow Irishman George Bernard Shaw, made a lasting impression on McWilliam, influencing sculptures including Chocolate Soldier (1977) and 16th June Bloomsday (1976).
It was also during the 1930s that McWilliam was introduced to Henry Moore, possibly by George MacCann, who was taught by Moore at the Royal College of Art. Moore was to remain both an inspiration and a friend for many years. McWilliam's early carvings in wood suggest the influence of Moore's work and an affinity with contemporaries such as Barbara Hepworth.
In 1936, McWilliam visited the International Surrealist Exhibition in London. The following year he became associated with the British Surrealist group when he was included in the surrealist section of an exhibition in London organised by the Artists' International Association.
McWilliam's sculptures have an obvious aesthetic affinity with Surrealism, particularly in his use of fragments of the face and figure and his tendency to elongate and distort the body. However, he always maintained that while he was for the Surrealists, he was never with them. Throughout his career he continued to distance himself from groups and movements, preferring to move between camps and explore different aesthetic approaches. This tendency may be the result of his experiences of conflict in Northern Ireland and his wish to avoid factions and sects that pit people against each other.
This is a characteristic that McWilliam shared with his contemporary and fellow Ulsterman Colin Middleton, who also moved between styles throughout his career. For both artists, this diversity has arguably impacted their public recognition and market value, but it has also made their oeuvres richer, more complex and more responsive to the social, political and artistic contexts in which they were working.
McWilliam joined the RAF in 1940 and served as an interpreter of aerial reconnaissance. From 1944 to 1946 he was stationed in India, where he taught life classes at the New Delhi Art School. In India, he visited Orissa to study Hindu temple sculpture, the influence of which can be seen in some of his post-war works, including Man and Wife (1948), Father and Daughter (1949) and Ms Orissa (1981). Returning to England in 1946, he started to experiment with a wide variety of materials including terracotta, cast stone and concrete. He taught briefly at Chelsea School of Art until, in 1947, A. H. Gerrard invited him to teach sculpture at the Slade, where he remained until 1968.
In 1950, the McWilliams moved to Holland Park where Mac worked in the garden studio (which is now recreated in the sculpture garden of the F. E. McWilliam Gallery and Studio in Banbridge).
This was a period during which he experimented with new materials including iron cement, plastic wood and plastic metal, which he used to create small-scale, unique sculptures focusing on family groups such as Mother and Daughter (1951) and Father and Son (1954).
The 1950s were a busy decade for public commissions and competitions. In 1951, Mac was asked to make a series of sculptures in plastic wood on the theme of the four seasons for the Festival of Britain. In 1953, Cain and Abel (1952), his entry for the international competition to design a monument to 'The Unknown Political Prisoner', was bought by the Tate, his first work to enter the collection. It was also during this period that McWilliam made his first work in Ireland.
Princess Macha of the Golden Hair of the House of Ulster (1957) was commissioned by London-based architect Eugene Rosenberg for Altnagelvin Hospital in Derry/Londonderry, the first NHS hospital built after the war. McWilliam was given the theme of Princess Macha, a mythological Irish figure who reputably founded a hospital at Emain Macha in Armagh. The resulting sculpture was his first major public artwork and joined William Scott's large abstract Four Seasons Mural, also commissioned for the new building.
Princess Macha is a statuesque seated figure inspired by Romanesque sculptures of the Virgin Enthroned. The deeply textured surface patterns resemble both the intricate carvings on Irish High Crosses and the Celtic knotwork from illuminated manuscripts including the Book of Kells and metal work such as the Ardagh Chalice. Despite these art historical connections, closer examination of the plaster models reveals that McWilliam created the patterns by using an array of common tools and hardware including nuts, bolts and spanners, many of which are preserved in his studio at Banbridge.
While he was working on Princess Macha, McWilliam also created busts of William Scott and his wife Mary. In the same year, he made an almost life-size, full-figure portrait of sculptor Elisabeth Frink who credited McWilliam as a friend and mentor. Portraiture continued to be one strand of McWilliam's practice and from the late 1950s to the 1970s he was commissioned to make busts of several public figures, including Hosea Kutako (1961) for the United Nations, Sir William Holford (1963) for the Royal Institute of British Architects, Ninette de Valois (1963) for the Royal Ballet and Lord Drogheda (1974) for the Royal Opera House, Covent Garden.
In 1959 McWilliam accepted an invitation from the Royal Academy to become an associate member. As a result, the avant-garde Hanover Gallery, with whom he had been exhibiting since 1949, severed ties with him. His time as an RA was to be short and, in 1963, he resigned in protest at the Academy's rejection of the work of abstract painter William Gear. Once again, Mac rejected artistic groups and preferred to follow his own path.
During the 1960s, McWilliam's work moved from angular, reclining figures in bronze, to a series of playful, highly polished sculptures inspired by a Coco de Mer bean, to a series of three-dimensional mosaics including Gold Venus (1968). The diversity of these works may have confused critics and collectors, but they align with Roland Penrose's description of McWilliam as an 'inventor of styles, the variety of his work a symptom of this restless energy and poetic instinct.'
While McWilliam's reputation in Great Britain is, arguably, based on his association with Moore and Hepworth, in Ireland and Northern Ireland, he is best known for the work he produced during the 1970s, particularly the 'Women of Belfast' – a series of figurative bronzes and drawings of female figures flying through the air that he made in response to the horrors of the Abercorn Tea Room bombing in 1972.
On the afternoon of the attack, the popular café in Belfast City Centre was filled with women and children, including a number of young student nurses. Two women were killed and numerous others suffered life-changing injuries, including losing limbs and their eyesight. Living in London, McWilliam's experiences of the bombing were mediated through the television and newspaper coverage, and what he heard from friends and family at home. His scrapbooks include images cut from the newspapers showing the aftermath of bombings and conflict. They also contain magazine images of dancers with stretched-out hands and feet, which McWilliam used as a source for dynamic ink sketches.
The contrast between the horror of the subject matter and the elegant beauty of the sculpted limbs of the female figures, as well as the fact that most of the women's faces are obscured by the fabric of their exploding clothes, creates a tension in the work that has troubled critics, particularly those concerned with gender and the representation of the female body. Despite these valid concerns, the sculptures hold an important position in the history of Irish art because they were among the only contemporary works dealing directly with the conflict that were exhibited in the Ulster Museum during the Troubles.
The impact of this series on the public imagination cannot be underestimated. Since the F. E. McWilliam Gallery and Studio opened in 2008, numerous artists, writers and members of the public have recalled the effect of seeing Woman in a Bomb Blast (1972) in the Ulster Museum. Belfast-born sculptor Tim Shaw RA, whose monumental work Man of Fire was recently unveiled outside the Imperial War Museum North, acknowledges the influence that McWilliam and the 'Women of Belfast' had on him as a young artist.
In the early 1980s, McWilliam returned to wood carving which had been his preferred medium at the beginning of his career. In 1987 a large mulberry tree blew down in Mac's garden. Inspired by the gnarled form of the ancient tree, he created a series of organic wood carvings. While some of the series take their titles from chess figures, others such as Death of the Elm, Resurrection (1990) were inspired by the natural shapes of the wood.
When F. E. McWilliam died in 1992, his family donated his studio and its contents to the state in lieu of inheritance tax – the first time a studio had been accepted in this manner. Banbridge District Council agreed to be custodians of the donation and set about raising funds to build a home for it. It was not until 2008 that they achieved their aim, when the F. E. McWilliam Gallery and Studio was opened. Located just off the main road between Dublin and Belfast, the gallery has far exceeded its predicted audiences and has established a reputation for high-quality exhibitions of modern and contemporary Irish and British art, in addition to a welcoming and inclusive visitor experience.
The F. E. McWilliam Gallery and Studio's opening exhibition was the first major show of McWilliam's work since his Tate retrospective in 1989, followed by 'William Scott in Ireland', which included the Four Seasons Mural from Altnagelvin.
The exhibition programme has featured major exhibitions of Tim Shaw, Basil Blackshaw, Deborah Brown, Neil Shawcross, Sharon Kelly, Locky Morris, David Crone, Mark Shields, Susan MacWilliam and Eilis O'Connell. Strong partnerships have been established with institutions in Ireland and the UK, which have resulted in touring exhibitions and collaborations with the Highlanes Gallery Drogheda, the Irish Museum of Modern Art, the National Gallery of Ireland, the Ulster Museum, the British Museum, the Arts Council Collection and The Fleming Collection.
Soon after the gallery was established, it became clear that more space was required to provide better access to the collection and to meet demand from schools, community groups and tourists. Earlier this year, Armagh City, Banbridge and Craigavon Borough Council was awarded a major capital grant from the Levelling Up Fund, which will be used to develop the Gallery, adding a dedicated space for the permanent collection, in addition to an education and community space. The increased capacity throughout the building will ensure that we can continue to bring the work of F. E. McWilliam and the best of Irish and British art to diverse audiences for years to come.
Dr Riann Coulter, Curator and Manager of the F. E. McWilliam Studio and Gallery
This article is supported by the Arts Council of Northern Ireland