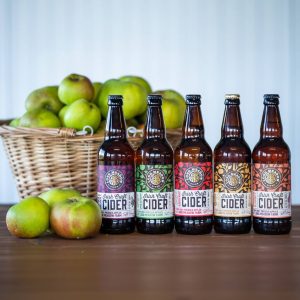 Enjoy an amazing experience on Long Meadow Cider family farm and see the whole cider process from start to finish
GENERAL INFO
Tour is from 10am – 11.30am.
Please arrive 15 minutes before your tour time. Cut-off for bookings is 48 hours prior to the tour date.
For last minute bookings contact Catherine (078 7668 4993). Terms & Conditions Apply.
ITINERARY
Enjoy a fully immersive orchard/cider experience in the company of the McKeever family.
• Enjoy an orchard walk explaining the various orchard plantations in place. This will change with the seasons. Visitors can experience the apple blossom in May or the trees laden with fruit from June-October.
• Learn about the production process for their award winning products as well as a visit to the Apple Pressing and Bottling Room
• A visit to the cold storage facilities where apples are stored from harvest in September to June/July the following year. There is also an opportunity to taste the fruit in storage
• Learn all about the production and benefits of their Apple Cider Vinegar (with Mother).
• Time then to relax in their new glass fronted Bramley Barn and enjoy a hot cuppa with delicious apple tart & fresh cream
• Opportunity to purchase local artisan products
And of course no visit with the McKeever Family would be complete without tasting their award winning craft ciders and apple juice.
A truly enjoyable, interactive experience set in the heart of the Orchard County.
WHAT TO BRING
As we are a working farm please dress appropriately. Boots & coat are advisable.
EXCLUSIONS
No dogs or other animals allowed on the tour
CANCELLATIONS
48 hours prior to your booked tour (please contact us by email (info@longmeadowcider.com) to inform us of your cancellation)
FURTHER INFO FOR TOUR OPERATORS
• Coach Parking Available
• Language Provision – English
• Length/Duration of the Experience – 2 hours
• Clothing/Equipment Requirements – waterproof coat, boots
• Level of Difficulty/Fitness Level – some uneven surfaces
• Catering Arrangements – Refreshments available according to package chosen
• Disability access