POST PRIMARY SHOWS
There's nothing more exciting than a day at the theatre. We bring stories to life on stage with productions happening throughout the year.
School Visits
Throughout the year we offer lots of creative learning opportunities for students of all ages. Your class can experience a live theatre show, enjoy world-class art exhibitions, or enjoy a creative workshop led by professional artists.
Working closely with the current curriculum, we've created a number of opportunities to support post-primary school learning at The Market Place Theatre, Armagh.
When it comes to bringing a lesson alive, The Market Place Theatre, Armagh is the place to be. We've welcomed thousands of school children to the Market Place Theatre and counting, so if you haven't been to visit us yet here are a few ideas of how to get the most from your Market Place Theatre visit.
Forthcoming Productions

Aladdin | December 2023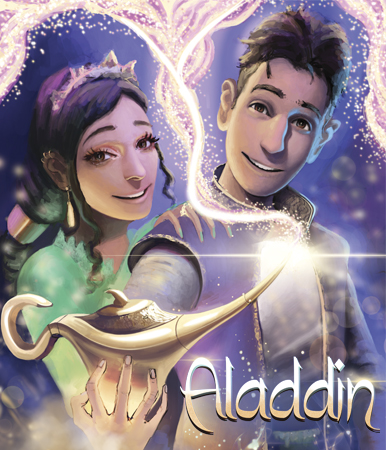 An Absolute Genie-us Of A Pantomime
Your wish is our command this Christmas at The Market Place Theatre, as we whisk you away on a high-flying adventure with the magical and breathtaking pantomime, 'Aladdin'.
Join a fabulous cast of madcap characters for a thrilling carpet ride with plenty of twists and turns, cheers and boos in a tale of love against the odds. Will the evil Abanazar destroy Aladdin's dreams to get rich and marry Princess Jasmine? Or will the Genie of the Lamp grant Aladdin three wishes and save the day? Find out on this globe-trotting, action-packed escapade for the whole family.
Jam-packed with dazzling costumes, stunning sets, mischievous fun and thrilling musical numbers all wrapped up in an adventure unlike any you will have ever witnessed before… oh, yes it is!!
'Aladdin' promises an unforgettably festive experience coupled with The Market Place Theatre's renowned reputation for high quality, professional pantomimes that are up there with the best.
PERFORMANCE SCHEDULE
WEEK ONE
Monday 4 December | 11am
Tuesday 5 December | 10am & 1pm (*1pm is Relaxed Performance)
Wednesday 6 December | 10am & 1pm
Friday 8 December | 11am
WEEK TWO
Monday 11 December | 10am & 1pm
Tuesday 12 December | 10am & 1pm
Wednesday 13 December | 10am & 1pm
Friday 15 December | 11am
WEEK THREE
Monday 18 December | 11am
Tuesday 19 December | 11am
Thursday 21 December | 11am
*Relaxed Performance – Tues 5 Dec at 1pm | Relaxed Performances are specifically designed to welcome pupils who will benefit from a more relaxed performance environment, including pupils with an Autism Spectrum Condition, sensory and communication disorders, or a learning disability. During the performance there is a relaxed attitude to noise and movement and some small changes made to the light and sound effects.
Ticket price is £10 per pupil, and one teacher's place is offered free to accompany every ten pupils booked. Schools booking before the end of June can reserve provisional numbers, and confirm at the start of September.
HOW TO BOOK YOUR TICKETS
To place a group booking, please call the Box Office on 03300 561 025, or click on the link for an online booking form:
Online Schools Booking Form Aladdin 23
Please note: We recommend that schools reserve tickets as soon as possible to ensure that all members of the group can sit together.
FOCUS GROUP CALL
In an ongoing commitment to customer service, and to ensure we continue to programme events in a manner which suits the needs of school audiences, we would like to invite Principals | Heads Of Department to take part in one-off Focus Groups. If you would be interested in taking part, please contact us on [028] 3752 1830.